There is quite possibly no food or drink from the Star Wars universe more iconic than Blue Milk. This really bugged me for a while. Whenever I mentioned an interest in making food from the Star Wars world, the first thing people shouted was BLUE MILK! But… it's just… blue milk, right?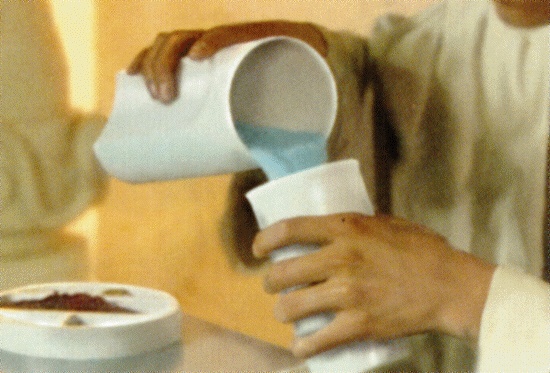 But the more research I did, the more determined I grew to develop a more interesting recipe for that staple drink. We see it first in IV: A New Hope, and it's later given a nod in II: Attack of the Clones, and lots of love in the Rebels series, not to mention comics and novels.
For me, a lot of the fun of making real recipes for fictional dishes is in the research. SW lore tells us that this is milk from Banthas, those great hulking beasts on Tatooine. It's been used for everything from yogurt to ice cream, cheese to custard. That tells me it's pretty commonly available, and versatile, and must taste pretty good.
In this recipe, the mix of milks gives it a decidedly different taste from ordinary milk with color added. I couldn't find a bantha dairy, for some reason, but since they strike me as somewhat goaty, I opted for part goat milk. I think this version could be the more readily available commercial brand, with added protein to improve flavor and appeal. So, while the original might come from domesticated bantha on Tatooine, this recipe should hit the spot for those travelers in far flung corners of the galaxy, homesick for their native desert planets.
Update: I've added this recipe to the lineup for Fictional Foodies' May Star Wars lineup. Check out the other cool recipes folks have submitted here.
Protein-Enhanced Blue Milk
Ingredients:
1 cup goat or cow milk
1 cup almond milk
2 tsp. arrowroot
1 Tbs. vanilla protein powder
Several drops blue food coloring
Pour half the milk into a small saucepan. Whisk the arrowroot into the cold milk, then, while stirring, gradually bring up to just under a simmer, when the milk is steaming but not bubbling. Remove from heat, and add the other cup of milk. Whisk in the protein powder, then strain into a clean container. Chill for at least 2 hours, and enjoy.