Alright, so here's the first mockup of the Alderaan Twist. I like it well enough, but I think there's still a good deal of room for improvement. Which is not to say I didn't dutifully drink down the entire glass after getting the photo. ;)
I'd wanted to have a number of elements in the picture, like pop rocks on the rim, and a sparkler, and some better layers to represent that blue-green planet. AND a protocol droid to hold it, just like in that image. 501st, I'm looking at you…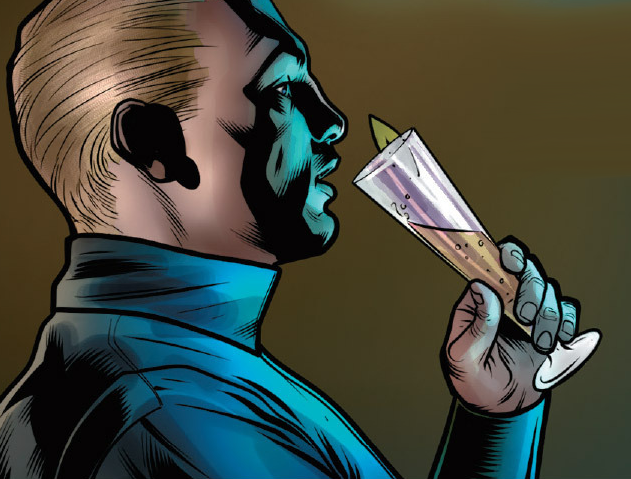 This drink is reported to have been the favorite drink of Eneb Ray, an Alliance spy working for Princess Leia Organa on Coruscant. His mission was not a success, and one has to hope it wasn't on account of this cocktail. The flavors are fun, albeit not quite the level of pizzazz I'd like. Orange, melon, and pear are familiar flavors to most of us, although they do meld into something a bit more unique when added together.
So expect an update on this one at some point, but in the meantime, Cheers!
Alderaan Twist Recipe
Location: Coruscant, and other bars throughout the galaxy
Makes 1 serving
Prep: 5 minutes
Components:
1 oz. blue curaçao

1/2 oz. midori
1/2 oz. lemon juice
champagne or sparkling pear cider
lemon twist to garnish
Pour the blue curacao into the bottom of a champagne flute. Combine the midori and the lemon juice in a small glass, then pour that into the flute as well. Top up with champagne, garnish. and serve.
Canon.
First appearance: Star Wars Annual I