If you've ever played any of the Elder Scrolls games, chances are they've made you hungry. This is one of the top most requested recipe from the entire Elder Scrolls series, and because it's usually something purchased in the game, one of the most tricky to figure out. I mean, this isn't a whole lot to go on: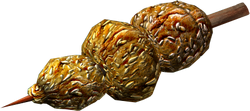 I started, as sometimes happens, by overthinking things. I envisioned these lumps of tender nougat, covered in caramel and rolled in nuts. It was inspired, but also a little ridiculous. Not to mention complicated! I ate a lot of nougat that never quite seized up, and decided to take a different approach to the problem.
When in doubt: simplify.
In the end, this recipe is easy to make and tasty to eat. They're nutty, oaten, sweet little morsels made with ingredients that would be common enough in the world of Skyrim. While they're great at home, I imagine they'd be just wonderful as a street food snack, for adults or children, especially in the frigid winters of Skyrim.
Be sure to check out all my other Elder Scrolls recipes. I'm adding more all the time, so be sure to stop by again soon!
Honey Nut Treat Recipe
Makes about 9 balls, or 3 skewers   –   Prep: 15 minutes
Note: you can sub in any nuts or nut butters you like in this recipe, and it'll still be tasty. :)
Ingredients:
1 cup pitted dates
1/2 cup golden raisins
1 cup sliced almonds
1 cup rolled oats
1/4 cup honey
1/4 cup peanut butter
pinch of salt
pinch of cinnamon
Set out a clean plate. Pulse the dates and raisins in a food processor until there are no large pieces remaining. Add the almonds and oats and pulse a few more times to incorporate.
In a separate bowl, heat the honey and peanut butter until they are a little runny. Add the fruit and nut mixture, plus the salt and cinnamon, to the bowl and mix vigorously until you have a thick consistency. Scoop out small pieces of the mix, squash in between your hands, then roll into balls. Set on the plate. Repeat until everything is used up, then thread onto skewers.
The rougher your skewer, the better the treats will stick, I learned, but I didn't quite have time to go out and whittle down a twig. If your treats start to slide, I suggest you just eat them a little quicker, or add a bit more oats. ;)